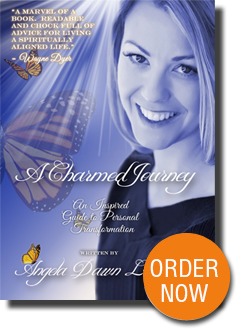 "Living a happy, passionate and soul-filled life has been my priority; but the journey has been anything but well-paved or uneventful . . . The lessons I have learned have been powerful and life-changing. I have seen Spirit work through me, my animals, my relationships and my clients in truly phenomenal ways . . . Miracles happen before our very eyes . . . If we remain focused and trust in the process, allowing the universe to work through us, we discover that our purpose is to be of service—as well as to live a glorious life."
A Charmed Journey
In A Charmed Journey: An Inspired Guide to Personal Transformation, Angela Lenhardt doesn't "tell" us, as much as she shows us her personal, "in the trenches" odyssey—from being raised on a small farm in rural Montana by her rarely-home father and an alcoholic mother, to the life of a gifted psychic and intuitive healer, one who has touched countless people's lives with her spiritual counseling and healing work.
What well-known spiritual author Dr. Wayne W. Dyer
says about A Charmed Journey:

"A marvel of a book. Readable and chock full of advice for living a spiritually aligned life."
Get the First 3 Chapters of A Charmed Journey Free
Simply sign up below and you will instantaneously receive the First 3 Chapters of my book Free.


Email Marketing You Can Trust
OR
Order your copy today!